Is it just me, or did this year really pass by in the blink of an eye? It seems like only yesterday, that I was trying (still haven't completely achieved) to set my blog up. Anyway, a lot has happened over this year, and I know I haven't exactly been regular with my posts…(Next year will be better, I promise)
As you might know (if you're a follower) I love reading books. This year, though, I wasn't exactly able to complete my reading goals because of all the crazy studying that I had to do. This is why I had a tough time choosing the top 10 reads of the year (I made sure each book I read was the best of the best so that I wouldn't regret wasting my time on a mediocre one). So, here's my list!
Oh, yeah! Almost forgot, it's not necessary that all these books were published in 2017. I just READ these books in 2017.
1. THE HATE YOU GIVE by Angie Thomas
First of all, I would like to say that the cover of this book was all I needed to see, to know that the book was gonna be great. Furthermore, for me, this book was really an eye opener. I consider myself fortunate for never having experienced such hatred in my life. Though the story might not be a real one, I'm sure similar cases take place every day. The story truly inspired me and I'm glad I got an opportunity to read it.
An incredible quote : "Brave doesn't mean you're not scared. It means you go on even though you're scared."
2. THE LEAVING by Tara Altebrando
I usually don't read thriller / mystery books, but this particular one popped up as recommended on my kindle, and after that, I couldn't keep the book down for 2 days straight. This book had me on the edge of my seat throughout, and this is one of the main reasons I so thoroughly enjoyed reading it. One unique thing about the book is how it has been published. The font is really different, and I really appreciated the thought behind it. I think this book is a must-read.
An incredible quote : "Six were taken. Eleven years later, five came back." (It's not exactly a quote, but I think it sums up the book perfectly).
3. FLAWED by Cecelia Ahern

I think that this book had a great impact on me. It's main theme was about breaking stereotypes and embracing who you really are as a person. I really enjoyed the whole idea of a young, ordinary teenage girl with a perfect life going against society's norms. I look forward to reading the sequel Perfect.
An incredible quote : "I know the difference between right and wrong. I understand the rules. But today I feel that the rules have been blurred, because today they were literally on my front doorstep."
4. LONDON BELONGS TO US by Sarra Manning
So, I read this book right before I visited London myself, and I honestly think it made my trip wayy better. On the flight, as I read the book, I could actually visualize myself being in those mesmerizing locations. I enjoyed the way Sarra gave a description of a particular place in London before the beginning of each chapter. More than the actual story, I liked how the story had been written. As I made my way through London, I could actually recall flipping through the pages of the book and reading about the place. It made me feel as if I was a part of the book too.
An incredible quote : "Bitch is just a word that boys say when they don't have the power to hurt you any more."
5. REBEL QUEEN by Michelle Moran
I'd never expected that I'd read a historic book, but well, we can't always be right. I'd never heard of this book, but I was getting bored in the school library when this book caught my eye. This book is about the fascinating story of Rani Laxmi Bai, a queen in India. The story is narrated through the eyes of one of her loyal female soldiers and her confidant. I think that anyone who is even slightly interested in history should give this book a try.
An incredible quote : "We all die. Some of use are fortunate to die fighting for justice."
6. THE UNEXPECTED EVERYTHING by Morgan Matson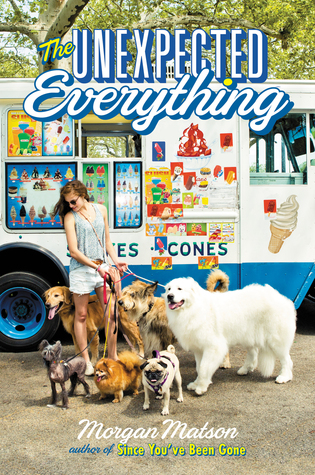 I read this book during my summer break, and I think that this is the reason why I could relate to the story so much. In my opinion, this book was a perfect mixture of everything – friendship, choices, love and fun. I think it once again establishes the fact that good things may come out of terrible blunders. It tells us to always look on the bright side. I really liked how the author chose to portray friendship. She showed us that friendship really is a two-way road, and that things are not always perfect in the end, and that's just how life is.
An incredible quote : "Because believing you're not alone is the cruelest trick of all."
7. ANNA AND THE FRENCH KISS by Stephanie Perkins

This book, in my opinion, was a short and sweet read. It kinda reminded me of the movie Wild Child. The story was about how you may feel abandoned at some point, but there is always someone out there to look out for you. I really enjoyed the way the author portrayed the friendship between the main character and her new best friend. They went through a few ups and downs, but in the end, came through.
An incredible quote : "Is is possible for home to be a person, not a place?"
8. EVERYTHING EVERYTHING by Nicola Yoon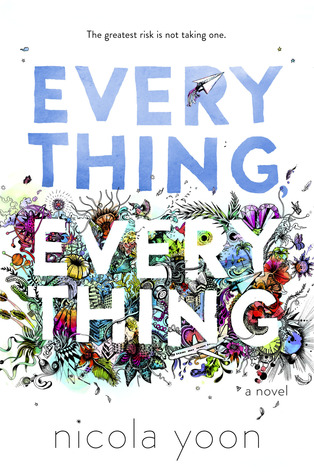 The book Everything Everything was literally … everything! I honestly can't put into words how I feel about this incredible book. The twist in the end was way too heart wrenching. It gave me the shock of my life. Through this book, I realized how fortunate I was to lead a healthy life and be part of an amazing family. It made me realize just how many things we take for granted, while there are people out there who can't even dream to do the simplest of things like breath in fresh air. In the end, I sympathized with the mother, but also enjoyed how the book ended on a happy note.
An incredible quote : "Everything is a risk. Not doing anything is a risk. It's up to you."
9. ZENN DIAGRAM by Wendy Brant
So, from the cover of the book, I understood that the story was gonna be related to math somehow. But…wait for it… never in a million years did I think that it would be related to superpowers as well!!! The story really blew my mind away. The relationship between the two characters was really everything that one could hope for. I was really surprised when I found out that the book was based on math (I mean, people usually run away from math). As a whole, I think that this book was a great read.
An incredible quote : "You can't fix people like you can solve a math problem."
10. THE SUMMER I TURNED PRETTY by Jenny Han

This was a book in which there were many, many complicated relationships. It's a trilogy, and each book is even more interesting than the one before. The story is about a girl who reunites with her mother's best friend for the summer. She is the only girl among a group of boys, and the story revolves around she copes with this fact and how she finds herself a little bit more with each passing summer.
An incredible quote : "It's the imperfections that make things beautiful."
I guess that was it for this year's book list. I plan on making a 2018 book list soon though. These are just some of the brilliant books I read this year. I'd love to know some of the books you fell in love with this year! Also, have you read any of these books? If you have, then what did you like about them? Don't forget to let me know your thoughts!
– Just Another Magical Soul