Hello to everyone who's taken the time to visit my blog. Just the fact that I'm even writing this post seems to be bizarre enough though. I mean, mid-year? Don't you mean beginning of the year? Cuz honestly, the past 6 months just flew right past me. Didn't even give me a moment to catch up! Well, now that we're here, might as well make the most of it. It's been a crazy half year, and books have been a crazy constant for me.
So last year was pretty hectic for me. My goal was to read 50 books, but I ended up reading only 30-35 (don't remember the exact number). Since, in the beginning of January when I was setting up my goal, I thought that this year would be even further hectic with all my IAs, Extended Essay and College Applications, I only set a goal of 30 books. Little did I know that instead of doing all my work, I'd sit and read entire novels in less than 2 days… Thanks to my procrastination skills, I have now surpassed my reading goal, only 6 months into the year. Instead of reading 30 books over the span of 12 months, I've read 33 over the span of 6. Yay me!
Since I've been seeing most of the bloggers I follow do this Book Tag, I figured that I might as well give it a shot too. I always think I'll do a Book Tag, but never end up actually doing it. So me doing this tag on time should be considered an accomplishment in itself (literally patting myself on the back while typing this). Anyway, here it goes…
BEST BOOK YOU'VE READ SO FAR IN 2019
Oh God, this is why I never end up doing book tags…I just can't seem to make up my mind! I mean, of all the wonderful reads this year, how can I be expected to pick just one!! Just the first one seems unanswerable – I don't know how I'm gonna get through the entire thing. Gah! Okay. If I had to absolutely choose one though, I think it would be Since You've Been Gone by Morgan Matson. I loved this book to bits. There wasn't a single thing that I didn't like throughout the novel. What can I say? I have a soft spot for summer romances!
To read my review on Since You've Been Gone, click here.
BEST SEQUEL YOU'VE READ SO FAR IN 2019
Um…I haven't read any sequel yet? See, the thing is, I kinda try and stay away from series. This is simply because the wait is agonizing if I like the book too much. I'd rather not put my heart through that kind of trauma, thank you very much. And even if I do start a series, I make sure that it's complete so that I don't have to wait in the first place. I didn't really start ant series that were completed this year, but did start reading a few books that were the first of their series. I know, I know. This goes against my life motto, but I couldn't help myself. I'd heard so much about these books that I couldn't not read them! Anyway, so instead of mentioning the best sequel, since I haven't read any, I'll tell you my favorite first-book-of-the-series (is there a word for this? I'm sure there is…). That's gonna be Girls With Sharp Sticks by Suzanne Young. This book was one hell of a roller coaster and I'd be lying if I said that the story still keeps me up at night sometimes. If you haven't read it yet…what are you doing with your life!?
NEW RELEASE YOU HAVEN'T READ YET, BUT WANT TO
Okay. I'm Indian, so I absolutely adore Indian YA novels. I just seem to relate to them on a whole other level. Not that each and every situation in the novel is one that I have found myself in, but I can visualize myself in the protagonist's shoes more often than not. This is why, one of my favorite authors at the moment is Sandhya Menon. I love how her characters seem so damn real and relatable. Nothing seems far fetched in her novels. I remember gobbling up her first two book When Dimple Met Rishi and From Twinkle, With Love as if there was no tomorrow. I honestly can't believe I haven't read her latest book yet, but oh well. So the book that I tag for this criterion is…There's Something About Sweetie by Sandhya Menon. I just hope this book turns out as good as I've been hoping it is.
MOST ANTICIPATED RELEASE OF THE SECOND HALF OF 2019
This one has gotta be Frankly In Love by David Yoon. The fact that it isn't even out yet, and yet the movie is in the making should speak volumes. I've been absolutely loving the books based on cultural differences and how the children of immigrants are affected (I even attended this discussion in my Psychology class on this topic and it turns out that this is, in fact, a very real thing). So another novel right down that avenue? Yes, please!


BIGGEST DISAPPOINTMENT
So, if I don't really like a book, I usually DNF it. It's not that I do it on purpose. It's just that I feel myself drifting away from it and honestly even hiding from it. I'll place the book somewhere I won't be able to see so that I don't feel guilty each time it catches my eye. I mean, I hate not finishing a book. I don't know why – I just do! Though I haven't read many disappointing novels this year, I think that the one I'm gonna list here is Chronicles Of A Death Foretold by Gabriel Garcia Marquez. I finished reading it though, because it was quite a thin novel. But I think my time would have been better spent reading something else. It just didn't appeal to me, I guess.
BIGGEST SURPRISE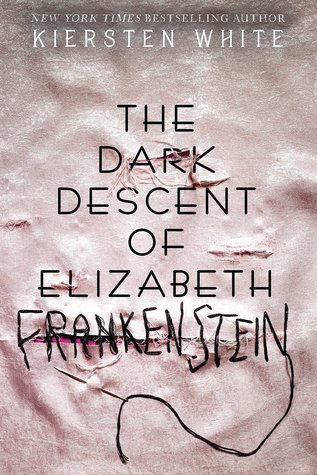 I'm gonna have to give this one to The Dark Descent Of Elizabeth Frankenstein by Keirsten White. To begin this, I'd like to say that I haven't read the original Frankenstein, so I was a little weary to read this book. I thought there might be some connection and that I would need some sort of background knowledge – not really. I enjoyed this book just fine without knowing squat about the original Frankenstein. Now I won't say too much about this novel cuz I don't want spoil it for the ones who haven't read it yet (I mean, why haven't you?), but this was quite a page turner and I was never quite ready for all the crazy yet brilliant events that took place throughout the novel.
FAVORITE CRUSH
Hmm…this is gonna be a tricky one. See, I almost always find myself falling for the protagonist's crush as well. So picking only one? Crazy hard. I'll still try though. I think I'm gonna go with 'Roo' from The Rest of The Story by Sarah Dessen for this one. This was a wonderful read and Roo, I felt, was the kind of person I needed in my life. I loved watching the transformation of the friendship between Emma Saylor and him as the story progressed. Their relationship was truly heartwarming and left me with a smile.
FAVORITE CHARACTER
I know this book doesn't exactly fall under the YA category and I doubt this piece of literature has featured in many book tags, but it was on my school reading list and I loved it so much that I plan on writing my Written Assignment on it. My favorite character is 'Antigone' from the play Antigone by Sophocles. I know, I know. Who? What? But I absolutely adore the character of Antigone. She's smart, stubborn, and stands up for what she believes in. I would love to have the kind of courage and guts that she has. She eventually dies (ouch) but I think that her character is always going to hold a special place in my heart.
A BOOK THAT MADE YOU CRY
I haven't really cried that much over a book this year…Somehow all the ones I've picked up have been pretty joyous ones. Yet, I distinctly remember shedding a few tears (not ugly crying) while reading the book The Rest of Story by Sarah Dessen. This was the scene in which she holds out a sparkler with the rest of the town on 4th July to honor her dead mother and her best friend. The moment just felt so pure and surreal that a few tears escaped. It was like I could actually visualize an entire town holding up sparklers in the dark to pay tribute to their fallen sister and brother. It just touched my heart, Okay now. Enough of all this mushiness. On to the next one…
A BOOK THAT MADE YOU HAPPY
Well, well, well. All the books I read this year made me happy. But the one that made me happiest? Let's see… The book that I think made me happiest was Starfish by Akemi Dawn Bowman. Initially, it was kinda sad – with her mother and uncle (not gonna spoil it for those who haven't read it yet) – but it takes a turn as the story moves forward. I loved how the protagonist decided to take some big and scary steps to change her lifestyle. In the end, the book left me with nothing but grins.


FAVORITE BLOG POST OF MINE
I've barely blogged this year so I don't think I'm gonna even try to fill in this one.
MOST BEAUTIFUL BOOK YOU'VE BOUGHT THIS YEAR

Five Feet Apart by Rachael Lippincott. I mean, duh. Have you seen it!? Both the cover and the story are absolutely gorgeous.
WHAT 5 BOOKS DO YOU NEED TO READ BY THE END OF THIS YEAR?
Tell Me How You Really Feel by Aminah Mae Safi
Hot Dog Girl by Jennifer Dugan
Prince Charming by Rachel Hawkins
These Witches Don't Burn by Isabel Sterling
Amy and Roger's Epic Detour by Morgan Matson
---
Okay, this has been a very long post and if you're reading this, I can't believe you actually read through all that ranting of mine. To round it all up, I think the first 6 months of 2019 have been pretty cool. Let's hope the next 6 are even better!
Leave your link down below if you've done this tag as well. I'd love to check out your Mid-Year Freak Out Book Tag. Thanks for reading my post!
– Just Another Magical Soul