So it's been more than a year since I went to Bali on vacation and I think that this post is long overdue. I first wrote this post while I was going through that really long slump of mine and I guess that's the reason why it never saw the light of day. Anyway, it's resurfaced once again recently and I recalled how much I had enjoyed visiting this extremely summery destination. Down below are a few do's that I feel any globetrotter should keep in mind before taking a trip to Bali. I promise to keep the rambling short!
---

Rent an entire villa

So, I don't think that there are many places around the world where you can do this. And let me tell you, this is quite the experience. Almost every place in Bali is right on the beach. There's legit sand EVERYWHERE!!! Not that that's a bad thing…but still. Another feature of most villas is that they come with their own pool…Sweet right? So you can take a dip whenever you want. No rules whatsoever. I hope it's a given that it is absolutely necessary for you to go with a group of friends to enjoy this though…cuz I mean, who else are you gonna share all those rooms of the villa with? Who are you gonna go swimming with in the middle of night? Your FRIENDS, that's who!
Employ a butler

Yep, let your British dreams come true. To be honest, I didn't even know that butlers were a real thing before this trip. I'm pretty sure I wasn't the only one though. So in all probability, your villa comes with a butler. But double, if not triple, check to be on the safe side. Since most villas don't exactly have room service, you'll have to do most of the taking care yourself. This means making the bed, cooking food, keeping the pool and the area surrounding it clean, and a whole bunch of other things. This is where having a butler comes in handy. They'll help you with some of the chores and cook you amazing and authentic dishes. They'll even tell you the best places to visit and give their own local insight. Having q butler will make your trip a more relaxed and carefree one.
Go clubbing

If you search 'Clubs in Bali' on google, you'll end up with a long list consisting of names like 'W', 'Hard Rock',and 'Potato Beach Head' right on the top. Now I'm not saying that you shouldn't visit these clubs – you should. The atmosphere there is quite soothing and magical. But…you should go to the smaller local ones as well. The people and atmosphere here is way livelier and enjoyable. At least, that's what I think. I'd rather have people jumping around singing at the top of their voices surrounding me instead of people sophisticated and daintily ordering exotic drinks in hushed tones. Also, one other thing. Never, ever, wear crocs (that too, neon green) and go clubbing. I speak from personal experience. Yes, you're expected to dress casually everywhere in Bali, just not that..
Strap on a jetpack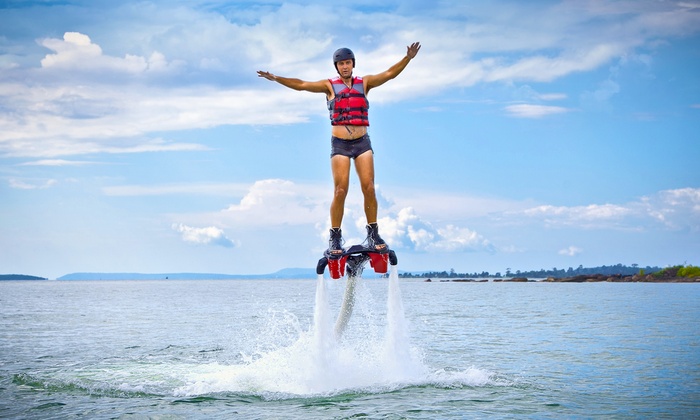 So this was something that I'd never done before and boy was I in for a surprise. I honestly think that this water activity is quite underrated. Before this trip, I don't think I'd ever even wanted to experience this activity that bad. Now I know what I'd missed before though. Ok. So though this may seem quite easy, believe me, it's NOT. First, the instructors teach you how to work the jetpack and they show you how it's done. Now, that there, is the problem. Since they themselves show you, you think it's an easy task since they seem to be doing it so effortlessly. I know I did. And then comes your turn. I don't even remember the number of times I fell into the water head first. Lemme tell you – balancing that thing is not easy at all. Finally, I got the hang of it though and I saw what I was missing. The thrill of being up in the air, controlling your movements is on another level altogether. This is one activity that I will never forget – first, because I'd never experienced anything like this before, and second, because my thighs constantly shrieked in agony for the following few days.
Visit the Tanah Lot Temple and others

To say that Bali is filled with temples is an understatement. I saw at least 1 big temple every few seconds while travelling in a car. The beauty of these temples is that each and every one is quite unique. Some architectural and religious element is always different. One temple that I enjoyed immensely was the Tanah Lot temple. The temple is literally on the beach and has the main shrine in a little cave. The process of reaching this cave is what I enjoyed most. You had to walk across the beach, wade through the water and finally climb a few steps to reach it. If you're lucky enough, you'll even get to witness the huge procession that takes place. The lively music and dance is sure to lift your spirits.
Enjoy the thrill at the Waterbom Water Park
This was a water park which was situated in the heart of the city of Seminyak. The rides were pretty daunting and I had a fun time. What I liked most about this water park, though, was how organized it all was. I absolutely loved how helpful and fun going the staff was. I think they made my visit to the water park a better one. Other than that, I think that the WaterBom water park was just like any other.
Trek the Volcano Batur

This is one experience that you just cannot miss on a trip to Bali. Like, missing it should be considered a crime. You need to get in touch with a tour guide (our butler helped us with that) and make sure that you're physically fit enough (it's gonna be hard, believe me). SO you need to wake up way before the crack of dawn for this one so that you can reach the peak to view the sunrise. It's around a 2 hour hike. Our instructor took us in a small group so it wasn't that bad. He helps us along the way and made sure that we weren't too exhausted. We needed quite strong flashlights too see in the dark. Being surrounded by pitch darkness, though, was pretty surreal. The entire journey of climbing the volcano, according to me, was more memorable than the sunrise. Once you finally reach the peak, you'll find yourself with a 360 degree view. The sunrise that I witnessed from the top of Mount Batur has been one of the most magnificent ones I ever have. One thing to keep in mind, though, is that as soon as the sun comes out, so does an entire lot of monkeys. Now, that was pretty scary and they're smart monkeys…They want your food and they're down right wicked. So be careful out there…
Eat the local fruits
I came across so many fruits that I didn't even know existed on this trip! I felt kinda stupid at times to be honest. Each and every one looked more exotic than the previous one. An explosion of flavors burst into my mouth with every bite of every fruit. I would honestly go back there someday just for the fruits…
Go River Rafting

I wasn't initially super hyped about this activity. I mean, it wasn't that I wasn't excited – I was. But I didn't expect anything new to come out of it since it was the third or fourth time that I was going river rafting. I was completely in the wrong. Now, I don't know if this is the case throughout Bali, but it certainly was throughout the city of Ubud where I had gone river rafting. To do this activity, you weren't simply driven to the shore where you hopped off the vehicle and went straight into the raft. Haha…NO. You had to descend an entire hill before you reached the shore. The entire pathway was full of slippery stairs and daunting cliffs. I think my heart was beating faster while trying to reach the raft than while actually on the raft. Yet, the experience was amazingly peaceful. Additionally, the rafting was phenomenal as well. I actually felt the need to grip onto the roped tighter so that I didn't fall off. On top of that, our instructor was a little…unhinged. He purposefully made the raft tip every now and then and that just added to the experience. Towards the end, we saw small waterfalls and our rafts were led through them. Another fascinating feature was that throughout the river, carvings had been done on both sides. And when I say carvings, I mean 30 feet tall professional carvings on the banks. They depicted some mythological story and according to our guide, went on for kilometers. I felt very close to the Bali culture after this experience and appreciated their talent.
Wander for hours 
This is one of the most important things that you can do in Bali – EXPLORE! Just wear your shoes and go out with some cash. You'll find all kinds of things on your little journey. Eat some street food, buy a few beautiful and delicate souvenirs, watch a street dance and take a serene walk along the beach. I came across this beach that had black sand that sparkled while wandering around. The sand seemed to have little diamonds embedded in them and I don't think I'll ever forget the way the sand shimmered and glistened in the soft sunlight. You never know what you might come across. So, don't run on a tight schedule in Bali. Live in the flow and go wherever your feet take you.
---

I think I broke my promise of keeping this post short, but guess what? I ain't guilty at all XD. If you love beaches, a little bit of adventure and need a peaceful vacation, I think that Bali should be one of the top destinations on your list. The activities that I have mentioned were ones that I have personally experienced and thoroughly enjoyed. Look at other sites and see what you think you'll like. There's enough to do for everyone at Bali.
Is there anything that I missed out on my trip to Bali? (I really hope not.) Have you been to Bali? What did you enjoy there? Did this post make you want to go there? Let me know your thoughts down below! Thank you for taking the time to read this post!
–  Just Another Magical Soul
---
Some similar posts

– 10 Beautiful Words That Describe Wanderlust Perfectly
– Travelling
– Just…Jump
– Letting Go