Happy Top Ten Tuesday! This week's theme is books I enjoyed but rarely talk about. I actually have quite a long list, and I've decided that the following ten are the ones that I wish everyone talked more about. These ten books are absolutely fabulous and it breaks my heart that they didn't get all the hype that they deserved. Don't get me wrong, I love the books everyone talks about as well. I just wish these would be talked about as much as well and fit into more bookish conversations! (Also, these books are in no particular order. I've either just remembered them or seen them on my Goodreads reading list.)
Far From The Tree by Robin Benway
This book was world altering personally. Not many YA books revolve around, or even manage to revolve around, the topics of adoption and familial relation the way this book has been able to. It gave me a completely different perspective of family and the importance of belonging. I found myself crying, laughing and (did I mention) crying as I flipped one page after another. I remember some people talking about how beautiful the cover of this book was, but I think that was about it. I think this book deserved way more recognition. I loved the way Benway managed to keep me engaged throughout the novel.
The Color Purple by Alice Walker
I think I mention this book as many times as I can and am guilty of including it in as many tags as I can. As a reader who focuses more on YA, this book was way out of my comfort zone and therefore don't even get that many opportunities to talk about or discuss this book with fellow bookworms. I ended up loving this book so much that I wrote my 4000 word Extended Essay on it. This book talks about racism, the concept of family, sexism, and exploring one's sexuality. It had a very strong message and I think everyone should try their hand at this book.
Sweet Tea and Sympathy by Molly Harper
I didn't really plan on reading this novel. And now that I think about it, rarely talk about it – like, at all. But I remember enjoying this quick read. Though this book doesn't exactly fall under the Young Adult genre, it was personally a comfortable read and I enjoyed the smooth and simple language that Harper used throughout her novel. I especially liked the entire country-side vibe that the book gave off and caught myself, on more than one occasion, saying out the characters' lines in a southern accent myself.
Antigone by Sophocles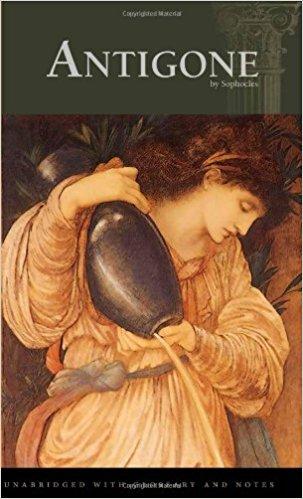 So this is actually a Greek drama, but I read it. So I'm just gonna include it in the "books I read" list anyway. This was an extremely short yet heavy read. I was smitten by the strong character of Antigone the second I opened the book. I loved how she represented the (ideal) modern woman even though it was written in 442 BC and made me personally feel empowered as a young woman myself. Since this is a Greek play, I rarely find myself talking about its plot as often as I'd like. I actually ended up liking this book so much that I wrote my 1500 word senior Written Assignment on it!
Identical by Ellen Hopkins
This book was such an unexpected one that I'm surprised I didn't fall off my chair while reading it. I started reading this book with absolutely no prior knowledge. Heck, I didn't even know it was written in verse! But the entire narration was just so intriguing I found myself unable to keep the book down. The plot was even kind of scary and that last plot twist was almost too much for my brain to handle (I just did NOT see that coming). This book deserves to be spoken quite a lot about…
We Are The Ants by Shaun David Hutchinson
I was almost about to not read this book due to the lack of its popularity and the mention of the word "aliens" (I don't really read those sort of books), but I'm so glad I decided to give it a shot anyway. This book gave me a very different outlook towards life and made me question my very existence. It took some time first, trying to wrap my head around the plot, but once I did, I hardly stopped reading this book. I rarely find the chance to talk about this novel and wish I could find more opportunities to do so.
London Belongs To Us by Sarra Manning
I read this book a long time ago but still my find my mind wandering to it whenever I think about or hear of London. I loved the writing style that Manning used and the way that she managed to literally take me, as a reader, on a trip (almost a guided tour) throughout London. I read this book shortly before visiting London myself and often found myself relating places that I was visiting with the book and how similar the descriptions were. This book was quite a journey and I would like to recommend this light read before visiting London.
Size 12 Is Not Fat by Meg Cabot
I often feel that many of Meg Cabot's books and series get overshadowed by her Princess Diaries series. I get the appeal to that series, but I think that personally, I like series like The Mediator and Airhead better and more engaging. This book was an extremely light and fun read and I found myself laughing throughout. Like the name of the book suggests, this book also talks about how the protagonist deals with body0shaming and how there is not a single "perfect" body type. She eventually grows into a confident person, but doesn't fail to humor the readers in the process.
Little Darlings by Jacqueline Wilson
There was this entire phase where I went crazy over Wilson's books. Name any book of hers and I'm pretty sure I've read it. I read this book when I was  I was I think around 13 and each one of her books shaped me as an individual. Obviously, over the years I've grown up and do find this book a little childish, but I still think it has a strong message of finding yourself and leaving a mark on the world. As a  matter of fact, I think all of Wilson's books should be celebrated and should be talked about more.
Rebel Queen by Michelle Moran
I came across this book in my school library and was completely taken by the royal vibe that this book's cover gave off. I immediately check the book out as soon as I found out that it was based on the true events that unfolded during the rule of an Indian Queen – Rani Laxmi Bai. Rani Laxmi Bai has always intrigued me and the many stories that I have grown up listening to about her bravery and wisdom made this book a must read. I appreciated how Moran brought the characters to life and portrayed the unique perspectives of one of the many women who served as soldiers and warriors under the queen.  I wish there were more conversations or posts in which I could include and mention this amazing novel.
These were the 10 books that I decided to include in my list for Top Ten Tuesday today. Let me know if you've ever read any of these books and what your thoughts on them are! I'm also always open to book recommendations, so don't hold any back! Thanks for checking out my post!
– Just Another Magical Soul